JOIN US ON SUNDAYS AT 9:00 & 11:00AM
Thank you to all who donated to the Crete School Supplies Drive! We completed our goal for all 230 students but will still accept donations for classroom supplies. Also, join us on August 15 to assemble the kits; more details to come.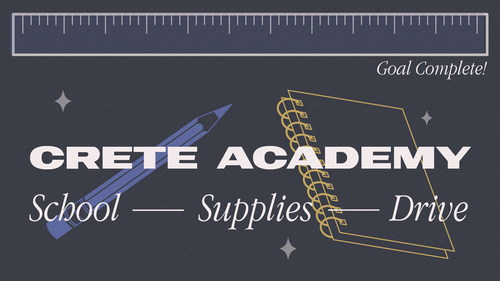 Beach Day is happening on 08/21 at Huntington State Beach. Bring your own lunch & we'll provide dinner at 4:00PM for everyone! Play in our beach volleyball tournament, and we'll close out the night with a bonfire after dinner!
We have a new short podcast series based on the Gospel of John on what abundant life means. You can find it tomorrow wherever you get your podcast.
Tapestry is looking for people passionate about coffee to start a coffee ministry. If you have barista experience or just enjoy a good cup of coffee, email us.
With Fall around the corner, we're looking for people to join College Staff! If you have a heart for college students & interested in serving, please email Pastor James.
We have officially resumed our indoor services for our 9:00 and 11:00AM services. Our worship spaces have been created with social distancing in mind. Services will take place in the main sanctuary with limited seating. Please RSVP today!
GUATEMALA VIRTUAL TUTOR VOLUNTEERING
Our sister church in Guatemala is looking for virtual tutors to teach conversational English and mentor their young students for an hour a week with a commitment for one year. If you are interested in this opportunity and would like more information, please sign up for the Volunteer Group on the Serve page.